Kota is type of a stone just like Marble and Granite.Kota is basically a district of Rajasthan,India.where hundreds of mines are located,town nameRamganj mandiis known for its famous kota mines.Colour of kota stone is rich greenish-blue and brown,mostly used in industrial area,garden area, temple,lobby area,railway stations,hospitals, stair case etc.commercial building and chemical factories choose kota because it is non-slippery, non-porous, tough, durable stone and at the same time it is affordable.
kota stone & kota stone price

Kota Stone And It's Size, Price & Benefits
Kota is also known as Ranikota/Green kota. Every lot has color variation from grey, pink, rich greenish-blue, brown, poison green etc. In garden area rough kota is used on walking path by keeping more distance on grooving, where grass is planted for attractive look.
kota stone blue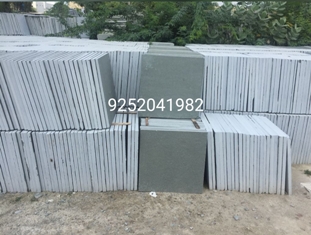 kota stone grey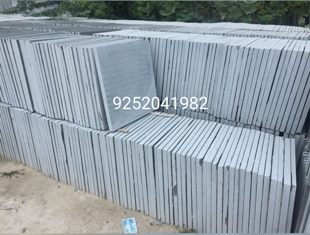 kota stone brown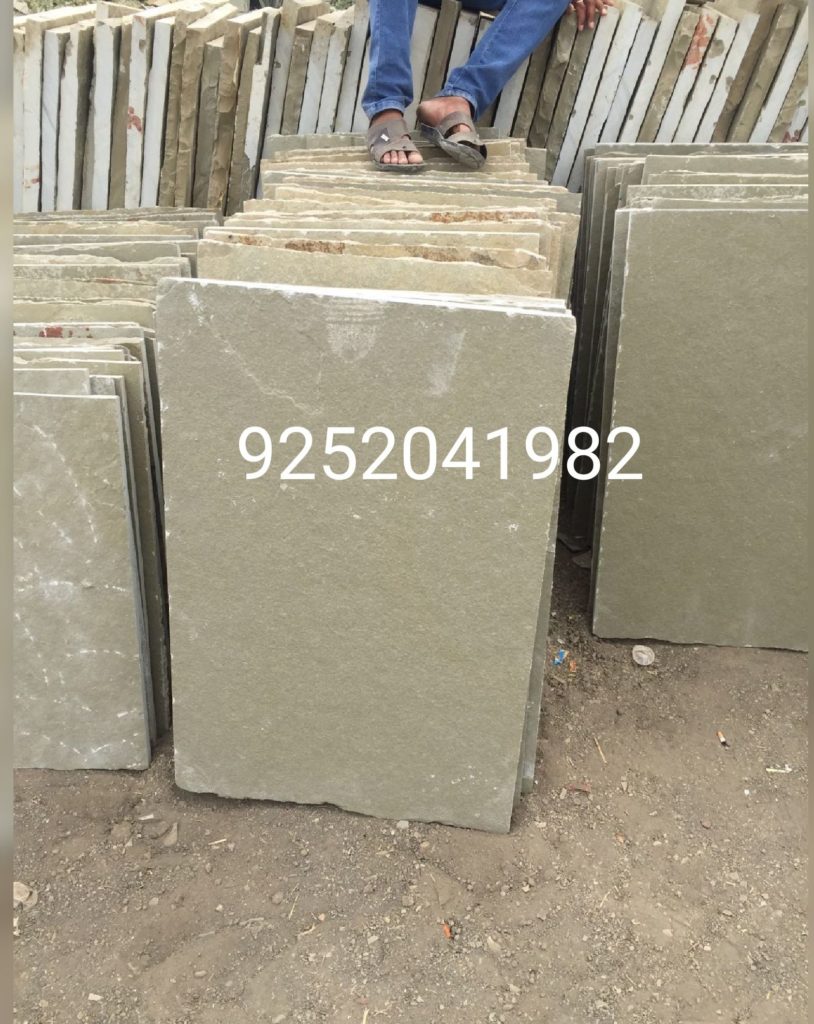 Dressing of kota stone slab
Each slab shall be tailored to the required size and shape and chisel dressed along the sides to obtain a straight edge. The edges shall be either table rubbed or machine rubbed with coarse sand before paving. Utmost care should be taken to ensure all angles and edges are true, square and free from chippings. Tolerance of ±2mm is acceptable for thickness. With respect to length and breadth of the slab, a tolerance of ±5mm and ±2mm for hand cut and machine cut respectively is acceptable.

kota stone size and thickness

kota stone cut to size – 11×11,22×11,22×16,9×9,22×10,10×10,22×15,22×14,21×21,22×22,22×28,17×23,17×11,in inch
kota stone skirting- 22×4,22×5,17×5, in inch
kota stone slab size – 2×2,2×3,2×4,2×5,2×6,2×7,2.5×3.2.5×2.5.2×4.2.5×5.2.5×6,2.5×7, in feet
Thickness – 18-24mm or 25-32mm
kota stone uses
Kota stone is the finest quality of limestone basically found in kota region of Rajasthan. It is widely used in various residential and commercial places. Our exclusive gamut of Kota Stone has meticulous surface, which is best suited on the exterior and interiors of the buildings.

Kota stone have the unique properties of limestone. It is very tough, non water-absorbent, non-slip, non-porous and moreover, Kota stones have very wide applications because of their unique properties of limestone. The rich greenish-blue and brown colors of this stone are most popular. Lime stone is preferred for flooring and wall cladding, paving and facades of buildings among other various applications.
kota stone readymade tiles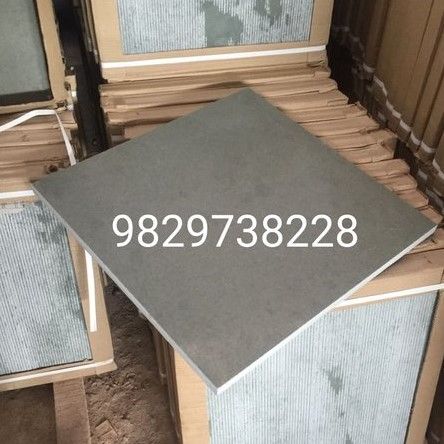 Featurer
Kota stone readymade tiles is just like ceremic tiles,it is completely finished no polished require after fix it.
Size – 22×22,22×16…… ( in inch)
Thickness – 18mm
finishing – top surface mirror polished back surface is calibrated
Price – 45/-sq.ft.
kota stone price list
size thickness price
11″x11″ 18-32mm 8.00Rs./-pcs.

9″x9″ 18-32mm 6.00Rs./-pcs.

22″x11″ 18-32mm 21.00Rs./-pcs.

22″x10″ 18-32mm 16.00Rs./-pcs.

22″x9″ 18-32mm 12.00Rs./-pcs.
21″x21″ 18-32mm 54.00Rs./-pcs.

22″x22″ 18-24mm 16.50rs./-sq.ft.
23″x23″ 18-24mm 17.50Rs./-sq.ft.
Leather finished kota stone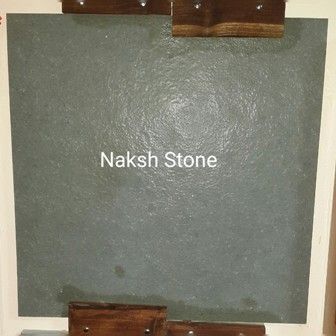 Leather finished kota stone is antique polished,it is look like river finished just as ancient fort and palace polished
Brown Kota Stone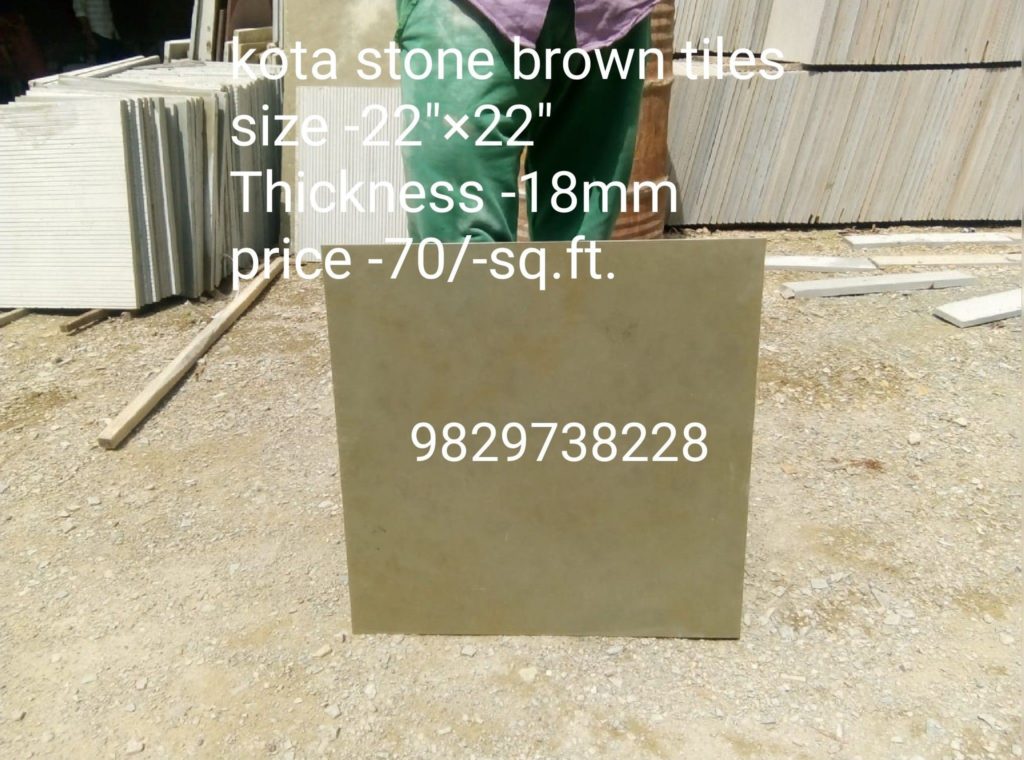 Featurer
Brown kota stone is yellow kota strone,it is available in natural,semi-finished and mirror finished form
Size – 2×2,2×1.5,…..
Thickness – 20-32mm
Price – 30/-sq.ft .upto 78/-sq.ft.
High polished kota stone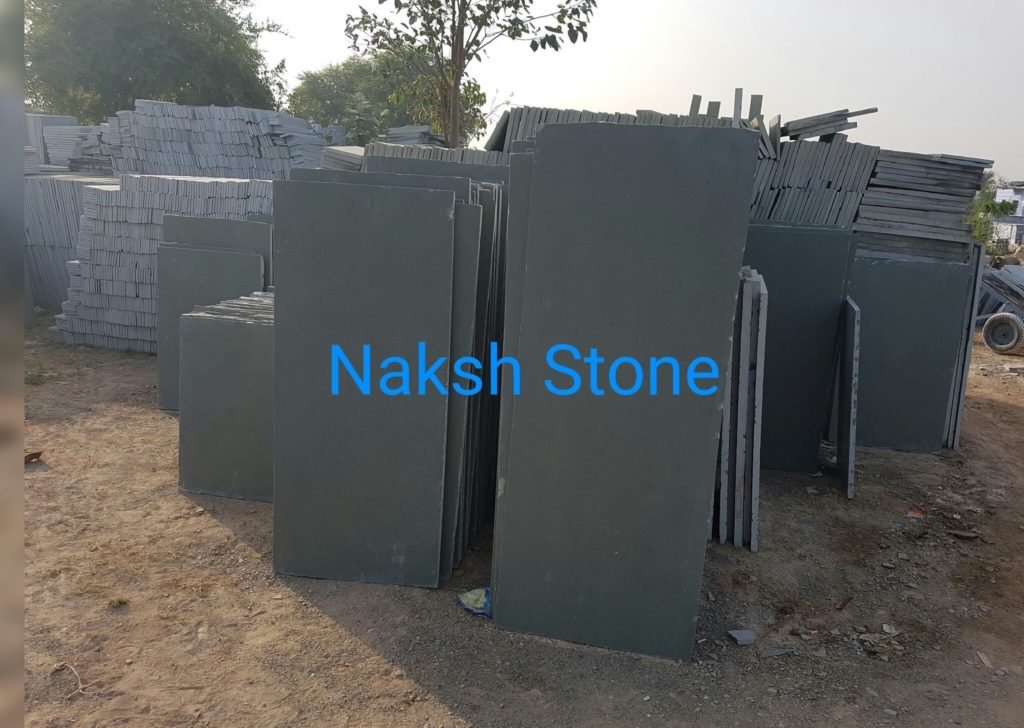 Featurer
High polished kota stone is better suface than sem-polshed kota stone,after fix it no polish require,
size – 2×2,2×3,2×3,2×4…..
thickness – 18-24mm or 25-32mm
Price range – 24/- upto 44/-sq.ft.
---
---
---
---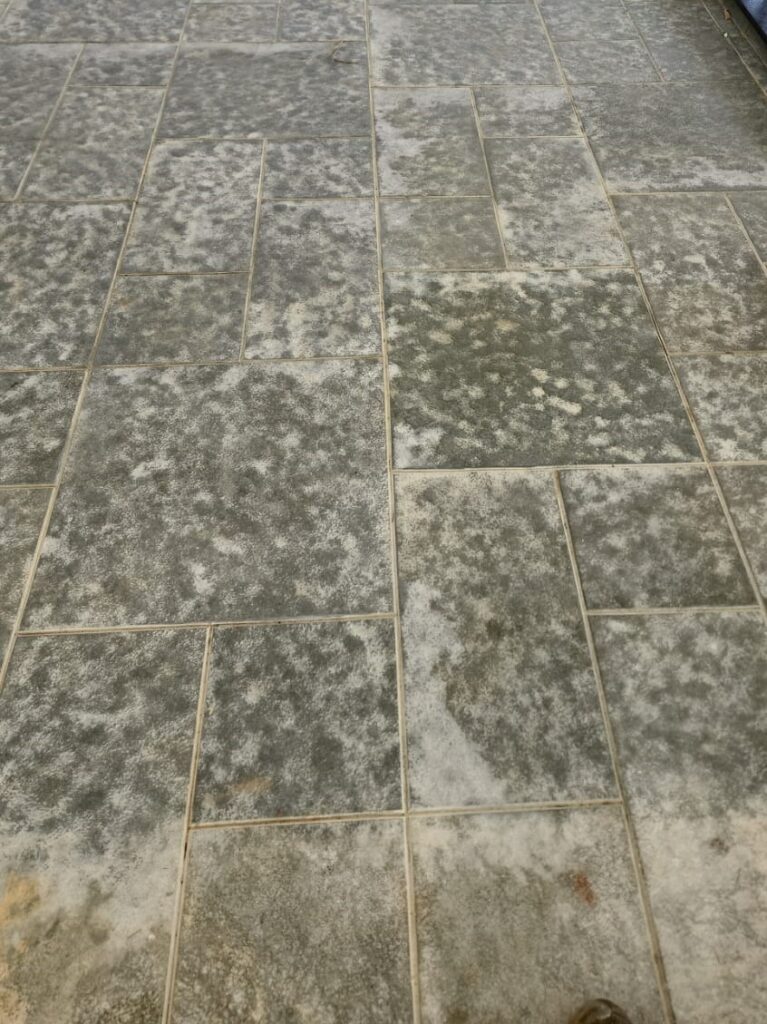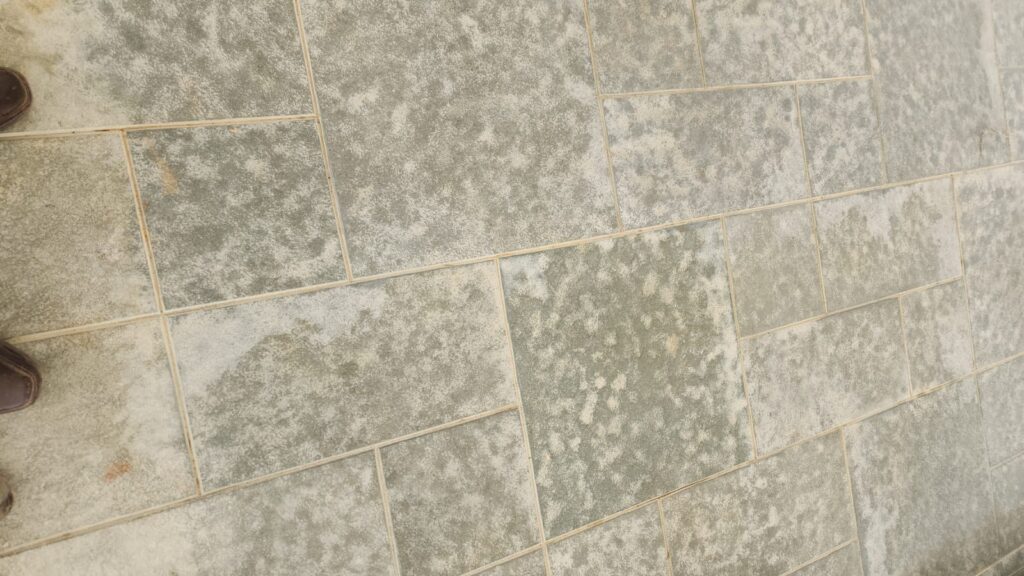 ---
---
---